Thanks for taking the time to read this post.
At the end of your portrait session, a time would have been organized for your ordering session.  Below is a brief outline of what to expect and some helpful tips to make it an enjoyable experience.
• In the week or so between having your portraits made and the ordering session, take some time to look around your house at possible places to hang your new family portraits.
• This ordering session is when all purchasing decisions will be made, so please ensure that all parties needed to make purchasing decisions are able to attend the ordering session, as additional sessions do incur a $75 fee.
• A great way to ensure a successful session is by sending us (or bring on the day) jpg images of different areas of your house in which you are thinking of hanging photos.  We import these into our software and can then project your portraits  exactly as they will  look on YOUR wall, at any size.  We will also need to know the length of one object in each different photo to set the scale correctly. You can email these photos to info@blissstudio.com.au.  Please include your name, the date of your ordering session and the length of one object in each different photo.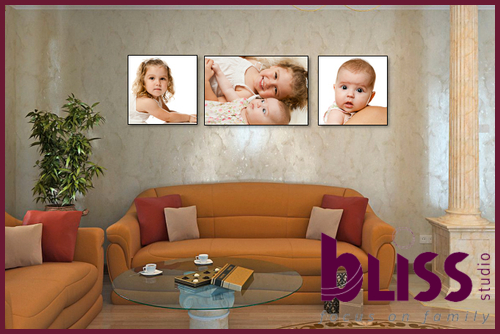 • For your convenience,   you can review our pricing here
If you have any other questions please call 9203 5831 or email
Sincerely
Bliss Studio